Analizing comics to come out of press in the months to come, these are some of our picks from DC Comics solicitations. Some of them are new material, some of it are hardcover reprints.
Yes, hardcover is the format I like the most, as I explained in the Single Issues or Trade Paperbacks article, because of the quality of the paper, sometimes it comes oversized, and also you can open it more widely to enjoy better the art on the pages. And they fit nicely in my shelves too… So be sure I will be recommending hardcovers when the possibility appears!
As an additional comment, different from what we usually do in our fast reviews, where all the material we review is material we already read, here we're picking what we would like to buy. We might hit the gold, but also we might get the mud from bottom of the river…
Without further ado, lets go with our picks from DC Comics:
I must be clear on this: Ra's Al Ghul is NOT one of my favorite characters. But this story is drawn (and written…) by none other than the legendary Neal Adams. That's more than enough for me. Also, the appearance of Boston Brand (AKA Deadman) may come as a plus. I repeat, I´m not particulary excited about the story, but Neal Adams art is always worth my time.
By Warren Ellis and Ramon Villalobos. Warren Ellis has been building up quite a good story in The Wild Storm 24 issue series, reintroducing original characters Grifter, Savant, John Colt and Adrianna and putting them against Skywatch again. Now Ellis brings us this new miniseries about the whole team. As he expresses: "It´s a team made up of people who have seen the worst in everybody and everything, and yet put themselves in frankly absurd amounts of jeopardy just so tomorrow might be a little bit better. And it's a short series, so I might just kill them all. Come and see what happens. The art is great"…. Bwahahaha, that's what we expect from comics, Warren! Now seriously, Warren Ellis has given us terrific material with these characters, if you haven't tried The Wild Storm, its collected in these four great volumes, not expensive and worth reading material.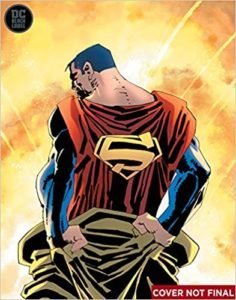 OK, it's Frank Miller and John Romita Jr. I'm not particularly thrilled by yet another retelling of Superman origins, but Miller already gave us the best character origin retelling story (in my humble opinion) as was Batman: Year One. And they worked really well together in other origins story, as was Daredevil: The Man without Fear…so how can my wallet resist this combination?
Also, Superman: Year One will be the third new book to come out as part of the DC Black Label line, that already gave us the polemic Batman: Damned , famous for giving us the Bat Penis and the non-achieved deadlines. But the edition is nice, oversized, and will be worth giving it a try.
You may be hotheaded guys and go for the individual issues editions that will (supposedly) come out in June, august and October, or be patient guys like me and go straight for the Hardcover, close to year end.
Batman: Last Knight on Earth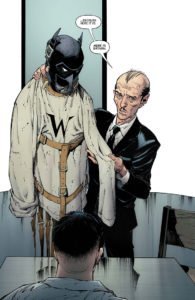 Another Black Label DC Edition. This time, Scott Snyder and Greg Capullo (the Batman team from The New 52 run that brought us The Court of Owls storyline) are given "charte blanche" and present  us the story of the Dark Knight's final days. The book is set in a post apocalyptical world, with Batman wandering around carrying the talking head of the Joker, inside something that resembles Green Lantern's battery.
Well, I'm a guy who didn't like the postapocalyptic Gotham Snyder depicted in their Batman's run. Specially in the second half of his New 52 run, where stories such as Zero Year seemed totally out of continuity to me. And don't make me talk about James Gordon dressed as a mecha Batman… Those stories are a kick in the gut when told inside the character's continuity. But if you let Snyder play in a playground outside continuity, I believe he may generate interesting stories, and this may be the case.
By the way, it's coming out right now, in May, you might even read a brief preview here.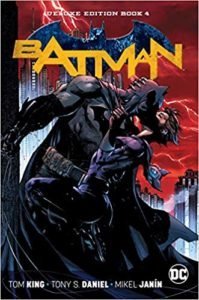 I must have told you the love I have for this volumes… The oversized format works beautifully to highlight the art of the stories, and they collect 13+ issues, so the price tag of U$S 34,99 is relatively cheap.
This volume collects the Batman/Catwoman wedding road (you might know what happened already, but… it's worth to have) and the Mr. Freeze story where he tries to drop his charges due to Batman's excessive use of force. Collects material from Batman 45 to 57, plus the Batman story from DC Nation. It's fun to read, and a real convenient edition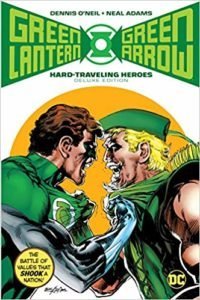 I started this picks talking about Neal Adams, and will close it with another Neal Adam's pick: The Green Lantern / Green Arrow: Hard Travelling Heroes New Edition.
It collects some of the best stories from the 70's, with Green Lantern & Green Arrow tackling hard issues as racism, poverty and drug abuse. Classic stuff, of the good ones! Collects stories from Green Lantern / Green Arrow 76 – 87 plus stories from The Flash 217-219 and 226. Find out why this is REAL classic material…
On tastes and links…
That's all for now, folks! Of course there's more interesting material, it comes to each person's personal tastes. But if you try one of these, you have chances to come satisfied.
As I always remember you, as amazon affiliates we will be getting a small commission if you purchase the books through our links, so if you plan to buy any of these you might be helping us finance the page if you go through our links, we thank you for that.
Also, it would be nice to know your comments on what material you also find interesting, your own picks from the DC Comics solicitations might help us to also read material we're not currently reading…
As we always say, keep up the good reading!!