Enter The Sandman Universe!
If you have been reading articles from this site, it's no secret that The Sandman is one of my all time favorite comics. The Sandman created a universe of its own, with many titles and […]
Great Comics to Read with a Kindle Unlimited Suscription!
I recently suscribed to Kindle Unlimited, and boy, I was in for a surprise! I noticed there are many great comics to read for free, and many of them are best of the best classics. […]
This time, we decided to make a service to all comic book lovers by reviewing the best Vertigo comics series that you must read. And we say this because if you haven't read them yet, you're lucky. Because you have some of the best comic material out there ahead of you. Just at the tip of your fingers, at a click of a mouse.
During the 90´s, DC launched a new comic imprint directed to adult readers. This imprint featured many fantastic and horror themed comics, and some thrillers. To say it in not so many words, Vertigo published some of the best comics that were published during the next decade. Some of the most read worthy comic books ever made.
I will only cheat a little bit, but for good reasons. And since I will explain the cheat and the reasons, I think it's worth to do it. To explain this, I have to make a little bit of history.
Officially, the Vertigo imprint started in January 1993. With Karen Berger as editor, the Vertigo line launched with 6 titles that were already in print: Swamp Thing, The Sandman, Hellblazer, Animal Man, Doom Patrol and Shade, The Changing Man. They also launched three new series, The Sandman Mystery Theatre, Black Orchid and Kid Eternity, and a couple of miniseries.
How will I be cheating? I will be considering material from the pre-Vertigo series as part of Vertigo. As a matter of fact, DC also cheated that way, since they were reprinted on Trade Paperbacks as Vertigo line… so I might be not cheating that much after all.
The reason: guys, this is good material, if you haven't read it, you MUST. The fact that they weren't originally published at Vertigo is just a detail. Their spirit is all Vertigo.
 Another additional comment about this article. I´ll be focusing ONLY in regular series, leaving the miniseries (which Vertigo produced a lot, some of them quite good) for other articles.
Are you ready to enter the Vertigo world? Is dark and gloomy, but you won't regret it at all!
The best 15 Vertigo comics series that you MUST read!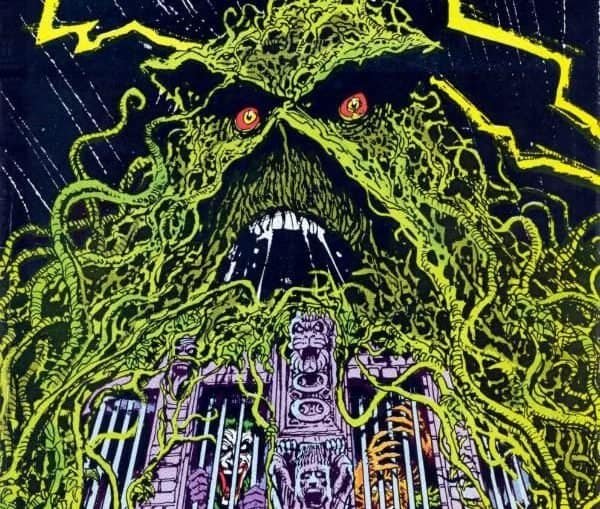 This is the book that planted the seeds (pun intended) for what was going to come.
Alan Moore began writing the Swamp Thing in 1984, many years before the birth of the Vertigo imprint. At that time, Karen Berger was the editor of the book (remember she was the editor of the Vertigo line), which also marks is as one of her "babies".
 With Moore's arrival to the book on issue 20, The Swamp Thing becomes one of the darkest and most creative corners of DC Comics. Also, Alan Moore is the first of many Scottish and British writers that will arrive to DC to create this kind of more sophisticated comic books that will be the imprint of the Vertigo Books. Neil Gaiman, Grant Morrison, Peter Milligan, even Mark Millar, all of them were followers of this pivotal book.
If you want to know what The Swamp Thing is, don't worry about anything that was previously published and jump on straight on the Alan Moore's run. Moore redefines the character, turning it into an Earth Elemental and giving the Swamp Thing powers and characteristics that weren't even dreamt of before.
This is, in all it's definition, an adult's comic. It defies the Comic Code Authority. It mixes sci-fi, horror, sex between the Swamp Thing and Abby, his former love, drugs end ecology. It's a book that really resembles and honors the horror books from the 50'.
For sure, Moore's work (pre-Vertigo) is the best of them all. But if you follow The Swamp Thing along its timeline you'll find many great writers handling the title: Grant Morrison, Mark Millar and Brian K. Vaughan.
Please, if you haven´t read them, read these books. You´ll find a real new dimension in comics.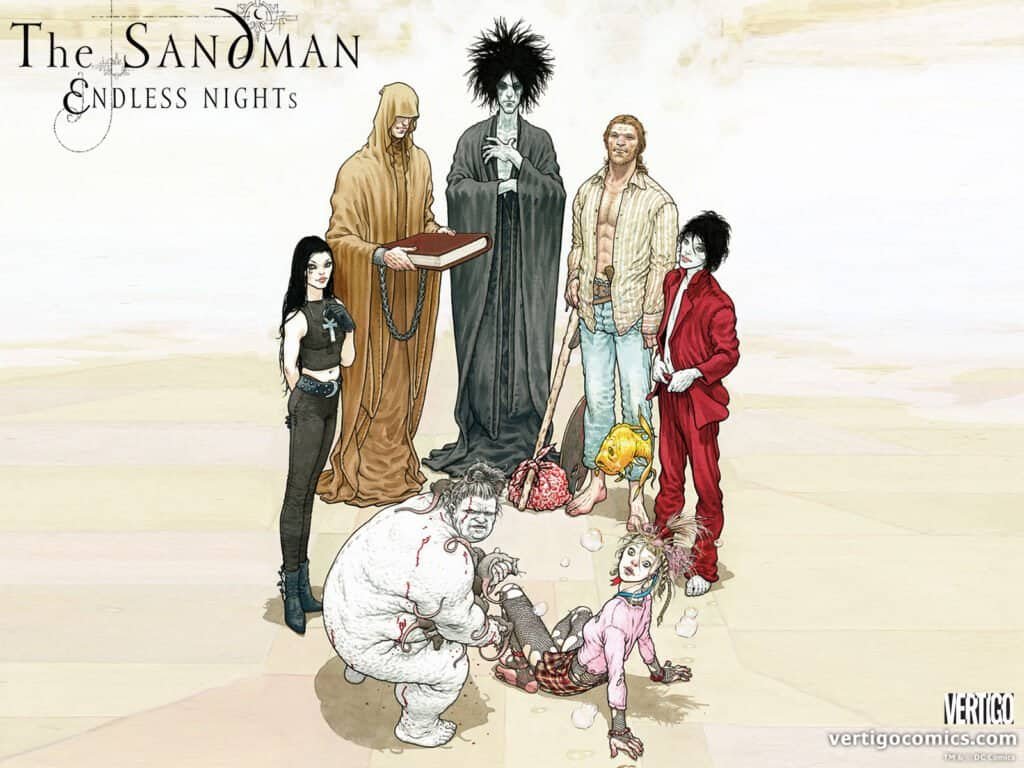 The Sandman is, without a shadow of a doubt, another of the masterpieces published within the Vertigo line and one of the best comics ever published. It did start, however, long before Vertigo even existed. The Sandman #1 was published in January 1989.
Neil Gaiman wrote his best work in comics on this series. The book is full of magic, poetry, references to history, literature, and classic mythology from many sources. It's really full of details that make it a book to read and re-read, and keep finding hidden jewels.
The story goes about Morpheus, or Dream, that as we start to get into the book we find out he's part of the Endless family. His brothers and sisters are none other than Destiny, Death, Destruction, Despair, Desire and Delirium. Through the series we come to know them all, plus a gallery of strange and majestic characters that transport you to the Land of the Dreams. Stories range from horror to magic to fantastic realms, jumping from different points in time and space.
If you haven't entered the Sandman Universe yet, what are you waiting for? It's an unique and exquisite experience that you'll remember for all your life.
Art on the series is maybe it's weakest point. Along it's 75 issues there were many different artists, some issues are beautifully drawn, and some that maybe are not so good. Maybe is the price your eyes have to pay to read this great book.
The covers are a completely different story. All of them were designed by Dave McKean using a combination of techniques that make each cover a piece of art in itself.
The Sandman gave also birth to many miniseries and spin-offs. As we mentioned, we will be taking about Vertigo miniseries (and maybe about Sandman related series) in a different article.
Just a little detail for you to understand how good this book is: Neil Gaiman won the Eisner award for best writer for this series for FIVE YEARS in a row, from 1991 to 1994. That never happened before, and it would be very rare for that to happen again. If this doesn't convince you that you haven't read comics if you haven't read the Sandman, I don't know what will.
For all of you TV Series' lovers… Neil Gaiman just announced on Sept. 27, 2020, that Netflix is about to begin filming the adaptation in October 2020. So expect it somewhere along 2021…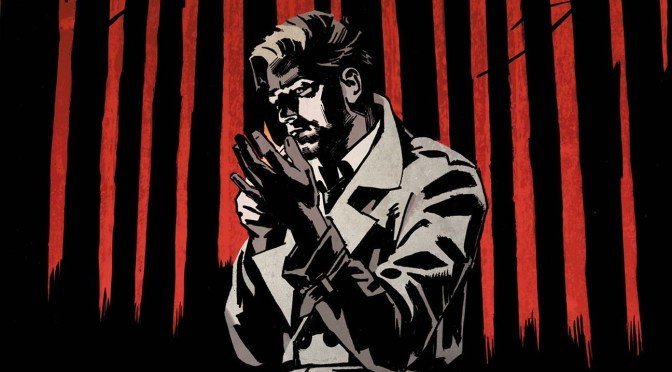 If we talk about THE Vertigo books, the previous two and Hellblazer are probably the most emblematic ones. As the previous two titles, it also started before the Vertigo line, in January 1988.
John Constantine, the main character or the series, is a streetwise magician with a questionable ethics sense. He faces demons and spirits through deceit and manipulation, rarely displaying any kind of magic powers himself. He's more of a magic connoiseur than a magician himself. In his stories he usually endangers the people around him, making him a despisable character for many of the people he crosses.
Constantine was created by Alan Moore and Steve Bisette in the pages of The Swamp Thing #37. Due to the impact on the public it deserved it's own series. Through the longest run from Vertigo books, Hellblazer had some remarkable writers such as Jamie Delano, Garth Ennis, Paul Jenkins, Warren Ellis, Brian Azzarello, Mike Carey and Peter Milligan, to name a few. Grant Morrison and Neil Gaiman even filled in for some issues.
If you saw the Keanu Reeves movie and despised it, you are right. The movie couldn't be more wrong on depicting the character, who is far from being a silver bullets gunslinger as depicted in the movie. But the movie was slightly based in "Dangerous Habits", written by Garth Ennis. That's one of the best arcs of the series. If you haven't seen the movie, read the book, and then watch the movie to make fun of it.
Another can't miss book. Of course, in it's 300 issues had better and worse runs, but if you go for the Garth Ennis run or the Azzarello's one you won't be disappointed. The Delano run is also great, more on the horror side of the stories.
Another beautifully crafted story, for sure one of the best Vertigo series. This one is pure Vertigo, the book launched in July 2002, and concluded in issue 150, in July 2015.
The concept behind Fables is simple: the realms of the fairy tales is under attack by an evil force, and the characters from the classic tales are now living in exile in New York City. Maybe you heard this concept before, in the TV series Once Upon a Tale or even in Grimm. Problem is: this comic was previous to those TV series. And it's better. It's not the only time that concepts that came to life in a Vertigo series are later seen on TV. Inspiration? Copy? Anyway, read the comic, is better.
The human like characters live in a building called Fabletown, while the animal like characters live in a farm in the outskirts. While there are some recurring characters such as the Big Bad Wolf (who calls himself Bigsby and plays the role of Security Chief), Snow White (Director of Operations, a strong willed woman very far from the mild character depicted by Walt Disney's movie) or Prince Charming (who has been married to Snow White, the Sleeping Beauty and Cinderella, an goes around seducing women), along the series there are many story arcs based on different characters, and the stories cover different genres, from murder misteries, to political intrigues.
The series is fully written by Bill Willingham, and has many artist, the main one Mark Buckingham, but the list of artists also include Bryan Talbot, P. Craig Russell, Steve Leialoha, and Mike Allred.
Fables has won many Eisner Awards including Best New Series, Best Writer, Best Serialized Story, and Best Penciller. It also generated numerous spin offs, that maybe we'll highlight in a future article.
5. Shade, the Changing Man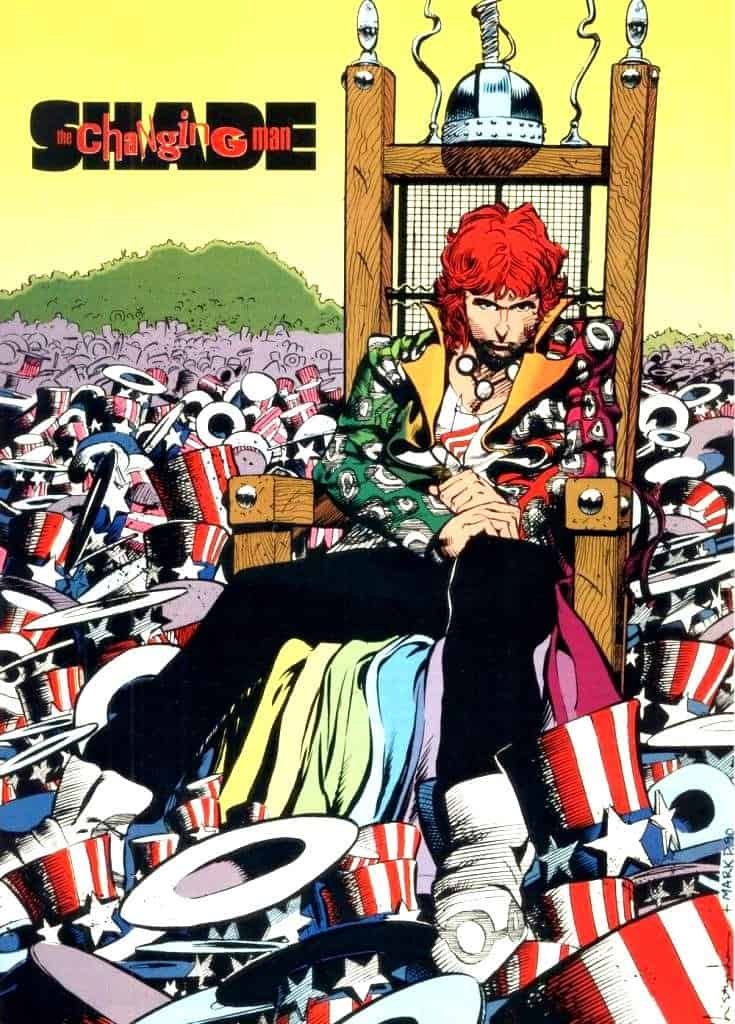 This is also another of the titles that started previous to Vertigo. Maybe is less known that the Big 3 from the beginning of this article, but the book is really fantastic. It's, without any doubt, the craziest one of them all. A comic with a lot of political background that strips off the American Way of Life during a road trip across madness. What?? Yes, sounds crazy, and it is. But it's lot's of fun.
Shade was a character created by Steve Ditko during the '70's, but newcomer Peter Milligan took the character, changes all his background and turns him into a dreamer offworlder that arrives to Earth with a madness vest, that allows him to modify reality. Since on the trip to Earth he loses his body, he takes the corpse of a murderer just after he's executed in the electric chair. After that, he forms a relationship with Kathy, whose parents were killed by this murderer, and together they go after the American Scream, a spirit that's wreaking havok in western America.
The story is savage crazy, and many things happen to Shade along the way, from switching bodies to having a son, and the two supporting characters, Kathy and Lenny, are the perfect counterbalance to Shade's madness.
The book is an acid trip, not so easy to read, but with some very interesting moments.
The art from Chris Bachalo deserves a separate comment. His interpretation of the craziness of some scenes is scary, and during this period his art is great and a pleasure to see.
This comic runs for 70 issues, from July 1990 to April 1996.