Alan Moore is one of the quintessential comic books writer and there is a very good argument that, beyond Stan Lee and perhaps Neil Gaiman (at least in terms of worldwide popularity), he is the most important writer that the medium has ever produced. His quality writing mixed with fascinating character development and the capacity to always push the envelope with comics is something that has given him a very privileged place in the comic book pantheon–his, let's say, quirky personality is an added bonus as well.
But what are the essential , the best Alan Moore comics to read? The ones you have to check out to not only understand the man's writing and his style, but simply to enjoy some of the best stories that the medium has? Well, here we're going to introduce you to the 15 best Alan Moore comics out there–you may have heard about some of them, you may have not, but they are equally worth your time and you MUST read them!,
15 Best Alan Moore Comics
Did you know that Alan Moore wrote a run for 14 issues of Jim Lee's WildC.A.T.S in the 90's? Image comics launched at the beginning the the last decade of the century, and one of the strongest critiques they received was that they were great on the graphic side, but terrible regarding stories. Cue to the entrance of Alan Moore. After some miniseries with Spawn's related characters, took over WildC.A.T.s.
You can argue with me that this is not one of Alan Moore's best comics jobs. My point is: Moore took over lame characters and a lame storyline, introduced many interesting new characters such as Ladytron and TAO, and generated a fun to read story. Don't ask much more than that in this one. It's popcorn time, but it's quite a tasty one.
14. The Ballad of Halo Jones (1984-1986)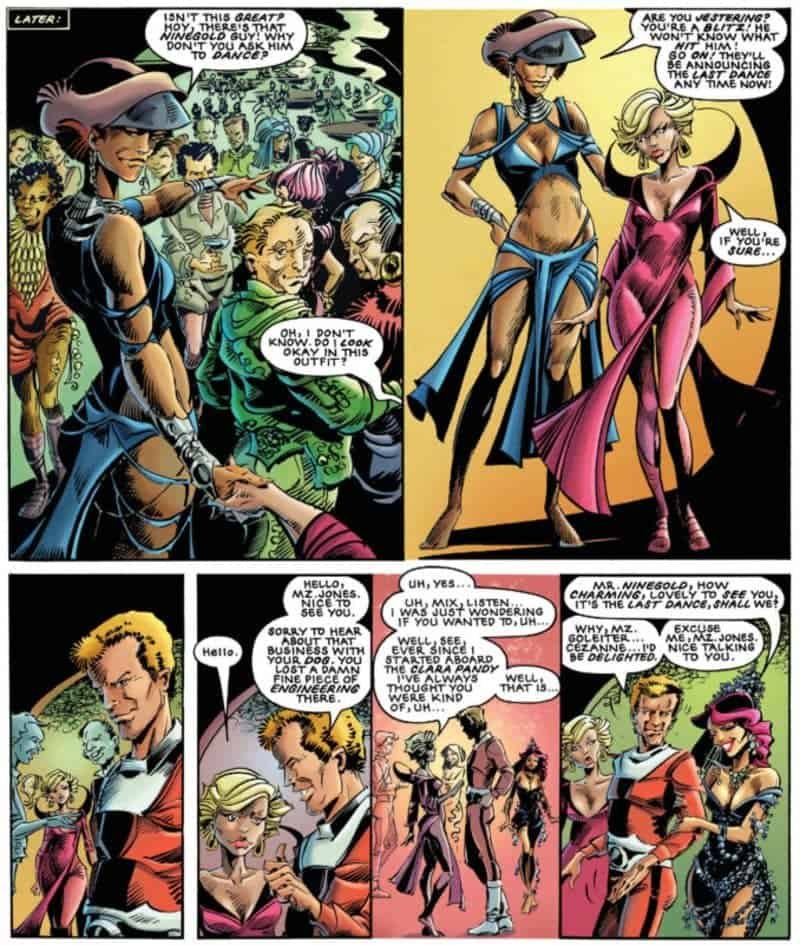 Back we go on time to the early years of Alan Moore as a writer. Originally published in the British magazine 2000 AD in five pages instalments, The Ballad of Halo Jones tells the story of a teenage woman from the 50th century, that after leaving earth discovers she's destined to become an important figure in times to come.
The story covers more than ten years of the character's life, but it was supposed to cover her life from adolescence to an elder woman. Moore stopped writing for 2000AD due to conflicts on author's rights, and the story was ended with 3 books published. Sadly, the remaining parts of the story never saw the light of day…
Anyway, this is a very interesting material from the early Moore's writing days.
13. Lost Girls (1991-1992)
Lost Girls has some common elements with the next recommendation, since Moore takes classic characters such as Alicia from Alice in Wonderland, Dorothy from the Wizard of Oz, and Wendy from Peter Pan, and makes them star in his own story.
Ilustrated by Melinda Gebbie, this is, basically, an erotic comic. In it, the main characters of these classic stories meet as adults to share their sexual awakenings and fulfillment. Alan Moore is a master of understanding the characters, their motivations, where they've been and where they'll be, and he does it here superbly as he follows these characters as they grow up.
Warning: I know, I already said it… it's an EROTIC book. If you don't like this type of books, by no means buy this one. But you're more open minded and like good writing and excellent art… this book's for you!
The original collection is quite expensive now… so you may also try the Kindle Edition on Amazon, which is also expanded with 32 additional pages.
12. The League Of Extraordinary Gentlemen (1999 – 2019)
And Moore does it again… He takes characters from classic stories, and plunges them into a new fictional universe where they work all together. And this time, it has a double twist, for both classic stories and comics readers: he takes the characters these classic stories, and creates a team of late 19th century "Avengers", or as Moore himself called them, a "Justice League of Victorian England"
In effect, in the book Moore mixes Allan Quatermain, protagonist of H. Riger Haggard's novel King Solomon's Mines, Captain Nemo, from Jules Verne's 20.000 Leagues Under the Seas and The Mysterious Island, Henry Jekyll and William Hyde, from Robert L. Stevenson's novel, Hawley Griffin, from H.G. Well's "The Invisible Man", and Mina Murray, also known as Wilhelmina Murray Harker, from Bram Stocker's Dracula, and makes them work together to save the world from the war between Fu Manchu and Moriarty, from Conan Doyle's Sherlock Homes stories.
The story, drawn by Kevin O'Neill, is really fun to read, and it's incredible how Moore flawlessly mixes the characters from the different stories and make them work together as if they were designed to work as a team. It definitely deserves to be considered one of the best Alan Moore comics works!
There were many sequels to the original story, with four volumes published, a graphic novel "Black Dossier", and a spin off miniseries based on Nemo. You'll enjoy all of them, but the first one is, of course, my favorite.
Alan Moore & Kevin O'Neill expand the League of Extraordinary Gentlemen universe with the  Nemo trilogy, as these spinoff graphic novels follow the pirate queen Janni Nemo, dughter of the original Captain Nemo,  in a trio of adventures that span the globe and the 20th century. 
This slipcase edition is a great addition to your bookshelves, but you might get it cheaper on Kindle if you want to go for the digital versions.
11. A Small Killing (1991)
Illustrated by Oscar Zarate, this is probably one of the most underrated works from Alan Moore. It´s an inner world graphic novel, that explores the life of a publicist obsessed with his childhood, and that serves also as a way to explore the 80's culture.
Timothy Hole is a successful adman who has been handed a big job, marketing a major cola brand in Russia. But he starts being hounded by a child that makes him question who he is and how he affects those around him, and the little murders each one of us has to make each day.
This book won the 1994 Eisner Award for Best Graphic Album, so don't dismiss it, it's good material. It deserves to be in the list of best Alan Moore works.
From his days in the ABC Comics imprint comes Top Ten.
Moore loves mixing genres. In this case, this is a police precint drama set up in a world of superpowered individuals. In this universe Moore creates, everybody, from police, criminals, civilians, and even pets, has superpowers and costumes. It follows the cannons of popular TV Police dramas at the time, such as Hill Street's Blues, mixing it with lots of references to the comic genre.
The book is beautifully drawn by Gene Ha, and it won the 2001 Eisner Award, so it has earned it's place as one of Alan Moore's best comics.
It has also generated many spin offs, such as Smax, Top 10: The Forty-Niners, and Deadfellas.
You can get this book in only one volume, in two separate volumes, digital, and even is one of the great comics you might read for free with your Kindle Unlimited suscription! (if you want to check other great comic books you can read for free with your suscription, check this article!)
Many people say that Promethea is what Wonder Woman would like to be.
Really, Promethea blows your mind. It tells the story of Sophie Bangs, a college student from a futuristic New York City who embodies the powerful Promethea entity whose task is to bring Apocalypse.
The story is full of elements of mysticism and magic, mixed with superhero mytology (with obvious references to Wonder Woman), spiritual life and science fiction.
Artist J.H. Williams III really shines in this book, that in many, many aspects is an acid trip.
Not a book for everybody, since Moore deals with many philosophic aspects, the occult and Kabbalah, and some people may find some parts of it utterly offensive. But for comics lovers… it's a feast! And it deserves to be nominated in the list of Alan Moore best comics!
There are many editions of this book. If you go for paper versions, try to get the best editions (hardcovers, I mean) to appreciate the art the best that you can. Is worth it, believe me.
And if you want to try it to see if you like it, you can read the first book absolutely free with your Kindle Unlimited Suscription!
This graphic novel, written by Alan Moore and drawn by Eddie Campbell, explores the crimes, the identity and the motives of Jack The Ripper, the well known murderer from the Victorian era.
The work from Moore and Cambell is well researched, with many aspects of it based on historical records and facts. The title "From Hell" comes from one of the letters believed as an authentic message sent by Jack the Ripper himself.
The book explores the concept that to solve the crime holistically, one needs to solve the entire society in which it has occurred. Also, the story explores Moore's concept of the nature of time as a spatial dimension,
Winner of multiple Eisner Awards, the book is a benemoth of 572 pages, and some versions include annotations and additional material of their research on the case. Really, an incredible piece of work by an incredible mind, and for sure one of Alan Moore's best comic books.
7. Saga of the Swamp Thing (1984-1987) (From issue #20 to issue #64).
By and large, this is the comic book series where Alan Moore really made a name for himself, establishing as perhaps the most promising comic book writer at the time. And it's not surprising when you consider the quality and legacy that his work on Swamp Thing has had on the character throughout the years.
Moore did a very interesting change with the Len Wein-penned creation: he established that Swamp Thing wasn't actually Alex Holland, the human scientist that was originally turned into the titular character, but rather an elemental from nature that absorbed the memories and consciousness of Alex, which generated an identity conflict within the character and made him question his own self.
It is a comic book series that shows Moore's horror sensibilities, his desire to try to expand an established character while respecting what came before him and at the same time adding that element of beautiful prose with really dark tones. It is Moore at his absolute core and it is a very nice introduction to what he has to offer as a comic book writer, plus Swamp Thing is one of DC Comics' most underrated characters, so that is a double win for you as a reader.
As a matter of fact, there are many editions of this book. But if you want to read the first three volumes absolutely free, you may do it with your Kindle Unlimited Suscription!
6. Batman: The Killing Joke (1988) (one-shot).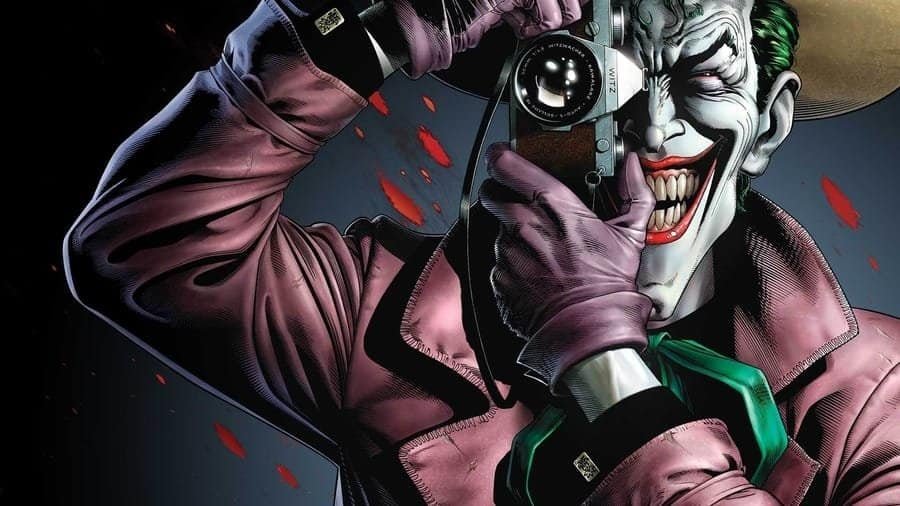 The Todd Phillips film Joker, starring Joaquin Phoenix, was widely regarded as an instant classic, but it also created a bit of a controversy because it dared to give the Joker an origin story, a name and a very sympathetic approach. It would be a lot more controversial if it wasn't for the fact that Alan Moore did just that 31 years earlier with the one-shot Batman: The Killing Joke.
This comic, much like the film, had a controversy about giving the Joker an origin story, but it was also controversial because Moore always intended the story to be an Elseworld, which means not being part of DC's main continuity. But when the book proved to be so successful (not surprising when you consider that Moore was one of comics' biggest commodities in 1988), they decided to take several events of this story and make it canon, which proved to be a mixed bag.
But if you leave all these factors aside, there is a lot to like about The Killing Joke. First of all, Brian Bolland's art is remarkable, fitting perfectly with the writer's storytelling skills and with the overall mood that the story provides. Moore has had the pleasure of working with several top class artists throughout the years, but I personally have a soft spot for Bolland's work here.
Moore not only takes the chance of exploring the many different origins of the Joker (read the story to understand this line), but he also takes the time to explore Batman's relationship with the Clown Prince of Crime and the reasons why the Caped Crusader doesn't take his nemesis' life, further emphasizing Batman's desire to help people. It is a very dark and at times sinister story, but it has a bit of a positive message.
The writer has stated that he absolutely hates this story, but Moore is known for throwing controversial statements for controversy's sake, so don't mind him that much. The Killing Joke is a solid story in the Batman mythos and if you enjoyed the Joker movie, there is something here for you.
5. V for Vendetta (1988-1989) (miniseries of ten issues).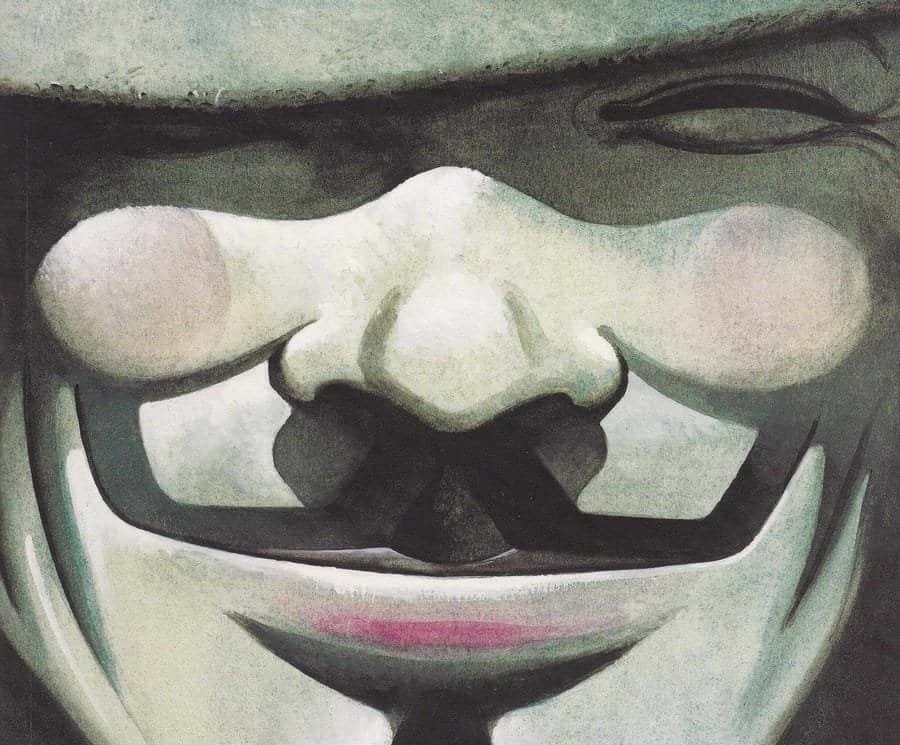 Dabbing into politics is something that comic book writers have done from time to time since the forties during World War II, but by and large they have been quite lackluster in terms of storytelling. Most writers tend to struggle in making a quality story while putting their political thoughts out there and we can see some of that on Alan Moore's V for Vendetta, but there is also a lot of quality on this comic.
If you have seen the 2005 film starring Natalie Portman, then you have a bit of an understanding of what is going on here: a mysterious man wearing a Guy Fawkes mask faces a totalitarian government that has taken control of England. It is insightful, dark and a medium for Moore to his express his anarchist beliefs (which varies depending of the time where you ask him), all done with the quality writing that has defined him.
Since the vast majority of Moore's readers come from the superhero fandom, there is a very good chance that this book might be divisive for some, but I personally think that is a very good read and worth your time.
4. Miracleman (1985-1989) (from issue #1 to issue #16).
Michael Maron just has to say the magic word "Kimota" and he turns into Miracleman, a superhero that fights crime and has a lot of very different powers. Does that sound familiar? Well, yes, it does: Miracleman, originally Marvelman but changed due to copyright situations with Marvel Comics, was created in 1954 as a British version of the United States' Captain Marvel, known today as Shazam.
Miracleman was launched once again in the eighties and Moore was given the duty to revamp the character for modern readers, so he decided to take all the continuity that he had before and twist it in the way only he knows how. The old 50s comics had a very lighthearted approach, but Moore knew how to take that and give it a darker and much more complex situation.
If we are blunt about it, Miracleman shows all the common tropes of an Alan Moore superhero story: the superhero using his powers in a morally dubious manner, the way the power separates us from normal people and the fascination of sci-fi with horror undertones. I think it shows some of Moore's more disturbing and cynical moments, showcasing what he can do when he goes all out.
It is a very fascinating moment in Moore's career, mainly because there wasn't a lot of hope for the character with this new series, so I think he had total freedom to do whatever he wanted and he decided to go with one of the darkest superhero takes of the eighties.
3. Supreme (1996-1998) (from issue #41 to issue #56).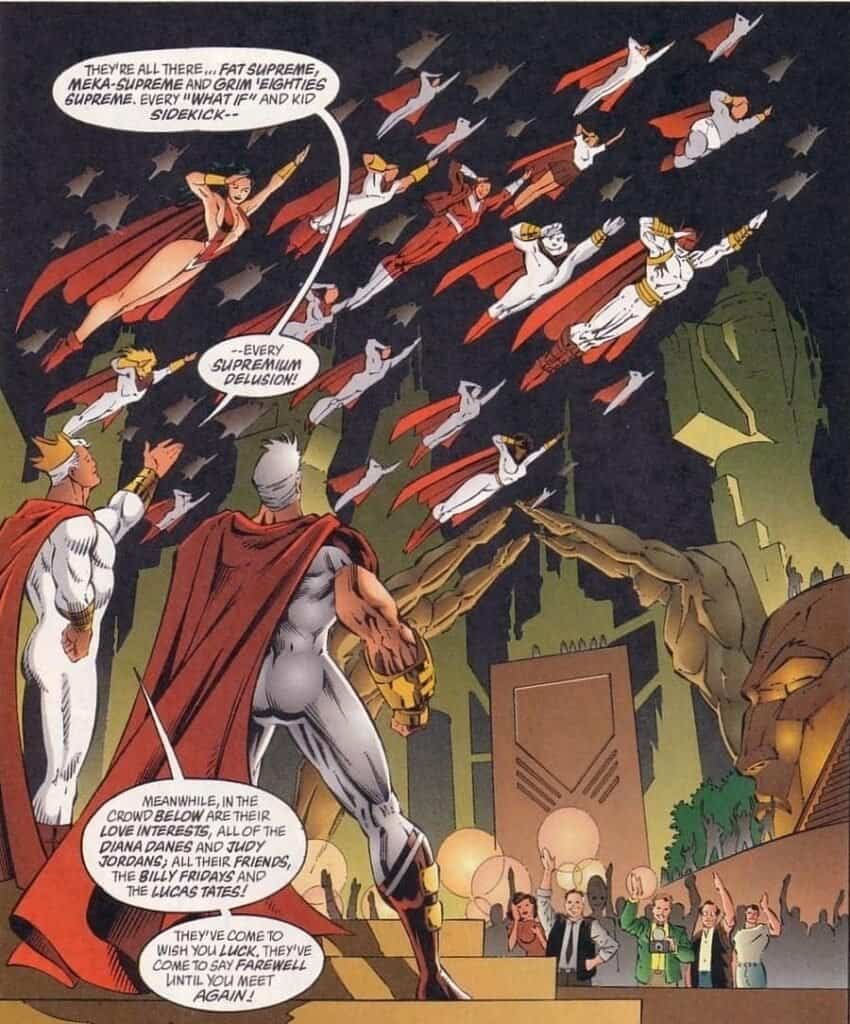 Remember what we said about WILDC.A.T.s, a lame group that Moore took over and made it fun to read? Well, he did it again with Supreme, only better…
Rob Liefeld is one of the most controversial comic book artists of all time, often criticized for his lack of understanding of anatomy and often being called out as the responsible for the decline of comics in the nineties. But one thing he definitely did right in that decade was giving Alan Moore the keys of the castle to write the former's creation, a Superman-inspired character called Supreme, which paved the way for some of the British writer's most fun stories.
Alan Moore has never been known as an uplifting writer, but in the nineties he felt a degree of regret about the way he influenced the decade's proclivity for darker and cynical superheroes, so his take on Supreme was much more positive and optimistic, often working as a tribute to the Silver Age Superman, who Moore loved since he was a kid.
The many different stories that you read in this series are very well-written, they follow a very natural progression and for the first time in almost a decade you feel that Moore is excited by what he is writing, which is always positive. And if you are a big Superman fan, these are stories that you definitely need to check out.
Speaking of the Man of Steel…
2. Superman: Whatever Happened to the Man of Tomorrow? (1986) (Superman issue #423 and Action Comics issue #583).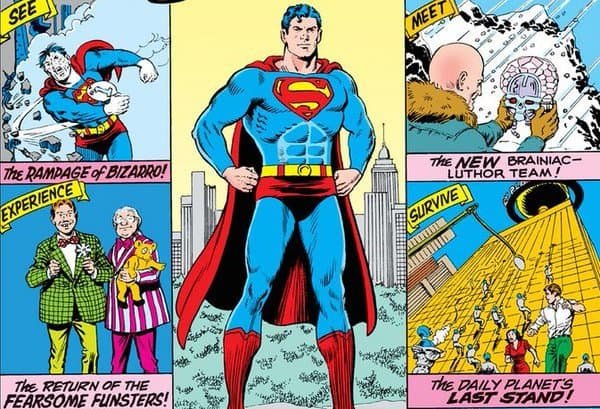 How do you end the story of Superman? How do you do justice to a character of such a monumental legacy and importance to Western culture? It is near impossible, but that is what Alan Moore set out to do with the story that would close the tales of the Silver Age Superman, 1986's Whatever Happened to the Man of Tomorrow?
The story is actually a bit simple: many years in the future, Lois Lane sits down with a journalist and tells the story of the last time she saw Superman. We get a tale of the Man of Steel's final clashes with some of his biggest foes and also finally ending a lot of plot threads that have been going on for decades.
While some of the elements are definitely Alan Moore (especially the resolution at the end), it is worth pointing out that the British writer respected Superman's core values and mythos in this story, knowing the type of character he had in his hands–it is a good reminder of how valuable these characters are and how they should be treated with respect, which shows in this story.
As an added bonus and as something fitting to the legacy of such an important moment in Superman's history, legendary artist Curt Swan was in charge of doing the art of this comic and it is definitely some of the strongest in his career.
This is one of the highest points, and one of the best Alan Moore comics.
This great edition, that you may get on hardcover or digital, also includes the great story "For the Man  who has Everything" from Superman Annual #11, which we also included as one of the 15 best Superman comics!
1. Watchmen (1986-1987) (miniseries of twelve issues).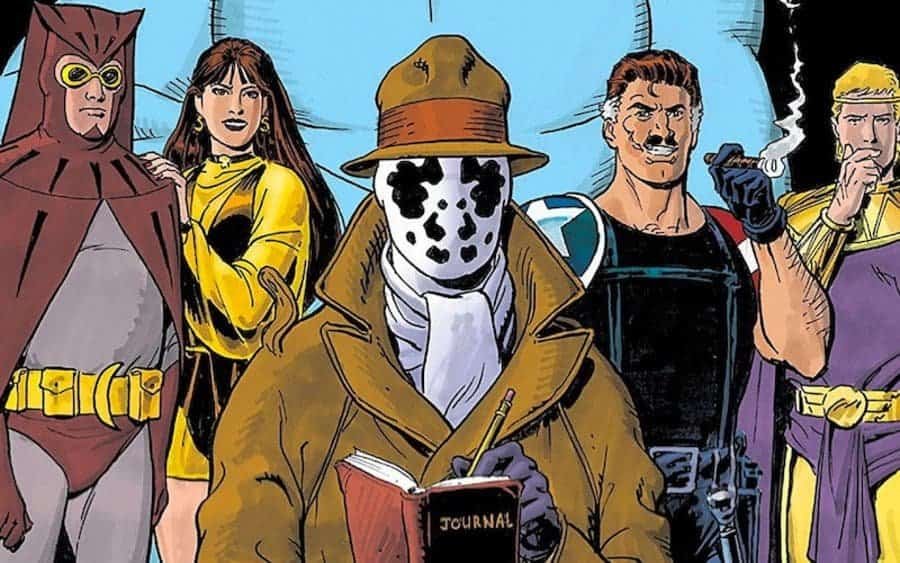 You have heard of Watchmen. Everybody has heard of Watchmen. It is the most famous comic book out there and quite likely the most important in modern history, mainly because of the impact (we can debate whether it was positive or negative) that it had on the industry, showing the potential of comics and how there was room for much more experimental storytelling.
Drawn by Dave Gibbons, Watchmen shows Alan Moore's favorite comic book tropes at his best and it also shows the desire for a more ambitious approach to storytelling in the medium, which is something that is shown even in the artwork–it is detailed, cinematic and with a lot of nuance to it.
The story explores a group of vigilantes in an alternate Earth where Nixon is still president and the Soviet Union and the United States are bound to clash. We see the moral commitments of the so-called superheroes, we see how those personas take a toll on those people and we see many classic superhero tropes being twisted in order to show a different side of them. It is a very unique story that has been rehashed by lesser quality writers throughout the years and they have failed to capture its magic.
You cannot understand comics in the last thirty years or so without Watchmen and you cannot understand Alan Moore without reading this story.
And do you know the story behind Watchmen? It's an interesting one, but it will be a subject for another post…
So this is our list of the 15 Best Alan Moore comics that you MUST read. As a matter of fact, you might like more or less the themes of his works, but Alan Moore's comics are usually far better than the average of the material out there. Anything you read from him, it won't be making you that you lose your time and money.
So make yourself a gift today, go and pick any of the books from our list of the best Alan Moore comics, and start reading it! You won't be dissapointed!
And as we always say… keep reading good comics!