John Byrne is one of the definitive creative forces in the history of comic books, especially when we focus on the likes of Marvel Comics and DC Comics. You cannot understand a lot of the essential stuff that these two companies put out without reading the work of the writer-artist who started to make his imprint in the medium with his legendary partnership in the X-Men title with writer Chris Claremont.
 Born in England but raised in Canada, Byrne's mix of powerful technique and graceful aesthetics allowed him to become one of the definitive comic book artists of the 1980s, if not the best artist of that particular era (maybe head to head with Frank Miller). And as the decade progressed, his works as a writer are also equally impressive, making him one of the most influential creators in the history of the comic book industry.
But what are the best comics drawn and/or written by John Byrne? On this list we're going to cover 15 of the best John Byrne comics titles that the man himself has worked on and our own personal thoughts about it. Hope you enjoy it as much as we enjoyed reading them.
Yes, I know it's a rip off of the X-Men. But it's also John Byrne's first creator owned project, so it deserves to be included in the list of John Byrne's best comics.
The Next Men made their debut in Dark Horse Presents in 1991, and then starred their own series for 30 issues. The series intended to be more of a science fiction book, with a little bit of superheroics, and explored mature topics such as child abuse and abortion.
The series is centered on a hidden project dedicated to create super humans, using babies given in adoption by single moms. These children grew up in lab controlled conditions, where they experienced virtual reality worlds.
The story of the Next Men starts when Nathan, Jazmine, Jack, Bethany and Danny escape the complex, and find themselves with powers far more developed than the ones they had in their virtual world. During the series, the characters find previous escapees, work for the US Government, are captured in Russia, and even two characters have a child themselves.
As I said before, very X-Men-ish, but it's interesting to see how Byrne develops the characters and builds his own story.
A few years before they reached the top of the world of comics with the X-Men, the duo of writer Chris Claremont and penciller John Byrne gave us a great comic on Iron Fist. Iron Fist was John Byrne's first Marvel assignment. And boy, he did well!
The first 15 issues of this title are enough to show the world the clean, cinematic style from Byrne, influenced by the likes of Neal Adams and Steve Ditko. As we see Iron Fist battling characters the likes of Iron Man, Captain America and Sabretooth, we see how well Byrne's style fits all classic characters. A delight to the eye!
A must read if you want to get in contact with John Byrne's best comics
13. Batman 433-435: The Many Deaths of The Batman
I was wondering if a should include this title here, because it IS a Byrne title (he wrote it) but it isn't a totally Byrne title, because he didn't draw it (as a matter of fact, the art on the story is by Jim Aparo). But then I thought: what the heck, in many cases here Byrne draws, but doesn't write! So I decided to include it anyway. Besides, some people doesn't know that John Byrne ever worked on The Batman, so it seemed good to bring this title up.
The story of "The Many Deaths of the Batman" somehow reminds to old classic stories from the 70's, where corpses of people dressed as Batman starts to pop up. The leads quickly connect the dead people to Bruce Wayne, and we find that they all connect to his past.
A fun story that won't disappoint the readers!
12. Green Lantern: Ganthet's Tale
John Byrne was on of the star authors that was selected to revitalize the Green Lantern's franchise in the early 90's, and he did it in Ganthet's Tale. This special edition introduced the most famous of Oa's Guardians, that would become instrumental in the franchise's mythos and also the one Guardian that people actually like. Come on, don't tell me you like Guardians??
The team that made this comic is actually interesting because you not only have legendary artist John Byrne on pencils, but you also have a science fiction writer named Larry Niven, who decided to revamp Green Lantern's mythology by adding a lot more lore and concepts that are actually quite interesting. 
It also introduces Ganthet, who is definitely the star of the comic with a few memorable quotes, who decides to ask for Hal Jordan's help to deal with a threat that goes all the way back to the beginning of the Guardians.
11. Captain America 247 – 255
At the late 70's, beginning of the 80's John Byrne was on fire. While still penciling the X-men, he took some additional titles. So after some issues of The Avengers, he started a nine issue run on Captain America.
This run is written by Roger Stern, but many of the traditional characteristics of John Byrne are here. He somehow revises the character's origin, faces against powerful foes as Dragon Man, Mr. Hyde and Batroc, gives him a new love interest, plus even makes him run for President! His art, as always, is superb.
This is really good classic material, is worth your time and money! Definitely in the list of John Byrne's best works.
10. The Incredible Hulk 314-319
John Byrne's run on The Incredible Hulk was a shot lived, but powerful one. The issues are action packed, and Byrne achieves two important milestones in the green goliath's story. In the first place, Bruce Banner and the Hulk get separated for the first time. It was a HUGE event at the time, believe me! Wasn't it enough for you? In second place, finally free from his brutal alter ego, Bruce Banner gets to finally marry Betty Ross. Strike two!
During this short run, Byrne makes Hulk face the Avengers and fight an epic battle with Doc Samson. A great story. And a particulary FUN comic to read!
Unluckily for all of us, his run on The Incredible Hulk stopped due to differences with Marvel's editor in chief Jim Shooter. It would have been interesting to see how far Byrne could have taken the character.
9. West Coast Avengers 42-57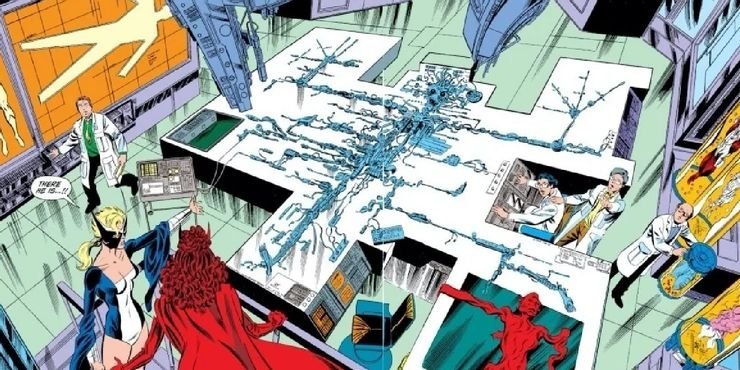 If you saw Disney +'s Wandavision series, you have to read John Byrne's run on West Coast Avengers. During this run, Byrne explores The Vision's origins, his relationship with Wanda and even makes new discoveries about their kids that take Wanda over the edge! You saw the Vision dismembered in the TV show? John Byrne did it first here.
John Byrne really has fun making this title, and puts all his magic into it, turning characters inside out, changing their status and the way we see them. He introduces new members into the team, as the USAgent, drives Tigra into a feral state, and even presents a new team… The Great Lakes Avengers! And that's just for starters!
If you want to see great material from Byrne's return to Marvel comics, you can't miss the West Coast Avengers.
8. Superman – Batman: Generations
This is one of the first series I read exploring the concept of heroes aging through time (a concept later explored in titles such as Spider-Man: Life Story), and how their legacy continues through their progeny.
The first miniseries start with Superman and Batman at the beginning of their careers, at the late 30's (that's when the first Superman & Batman comics where originally published), and jump ten years from one story to the other, as we see these fan favorite characters marry, have children, and face human problems as ageing, sickness and death.
One interesting feature from the book is that each decade also reflects some of the villains and challenges that were common issues at that decade of comic's publishing. A story worth reading, that reflects John Byrne's love for this media, and definitely one of the comics from John Byrne that you'll enjoy reading.
John Byrne's time in the Namor title is perhaps one of the most underrated periods of his career and he often doesn't get enough credit for arguably writing the last great series starring the King of Atlantis.
After a successful miniseries that provided the character with somewhat of a comeback, Byrne took this opportunity in 1990 to give Namor a new lease of life and established him as the CEO of a company that is focused on protecting the environment, with Namor aiming to find better solutions to this problem instead of his usual fighting with the Marvel heroes.
One of the key elements of Byrne's run with the Sub-Mariner was that he tried to give this Marvel antihero a more traditional heroic approach and he added a wide supporting cast because he argued that Namor worked a lot better with a lot of characters to bounce back and forward to. He also added new villains, new characters and managed to bring back a Marvel character that was presumed dead at the time (we're not going to tell you who that is).
Great writing, a lot of fun stories, one of the few great Namor runs out there and the art is simply delightful, whether it's Byrne at first or then-newcomer Jae Lee, who adds a more 90s and yet powerful approach to the artwork.
Definitely recommended if you want to know a bit more about one of Marvel's first ever characters and arguably the first antihero in the company's decades of history.
John Byrne's time at DC Comics may not get the spotlight and reverence that his stint at Marvel Comics, but he managed to do some interesting and enjoyable stuff when he was at the former company. And his Wonder Woman run, usually so forgotten and underrepresented when it comes to references and releases, deserves more attention.
William Messner-Loebs' Wonder Woman run was solid and it had some really good moments at first, but it was hampered by editorial trying to make the title a lot darker and gritty, which was the trend in the 90s. But when Byrne took over, he decided to bring Diana back to her more familiar status quo: moved her to a new city, brought her classic costume back and added all these fun and heroic stories that were more befitting of the character's iconic traits.
It's certainly not a groundbreaking title and there are some better Wonder Woman runs out there, but if you want to have a good time with the character and read some stories that fit her ethos and core values, then this run is perfect for you.
Despite the fact that he was the co-creator of these characters and the artist and writer that is most associated with them, John Byrne has never been too fond of Alpha Flight. He argued in one interview he did many years later that he struggled to connect with these characters and that's why he thinks his writing wasn't at his best during this particular run.
Having said that, I do think that Byrne might have been a bit too self-deprecating about his own work.
His Alpha Flight run shows him doing a lot of experimental storytelling and trying different things in terms of character development and plot twists, probably not only as a way to entertain the readers but also to entertain himself in a project that, as we mentioned before, was not too much of his liking.
There is also the element that Alpha Flight, back in the 1980s when this series came out, was actually a big seller for Marvel Comics and their popularity has been forgotten for the most part, so you're not only getting a great series, but also one about a superhero team that is quite fun to read and that doesn't get a lot of exposure.
Alpha Flight books are not that easy to find, I regret to say, because it really deserves to be considered as one of the best John Byrne comics runs… you can get the digital version of the first 8 issues on Amazon, but I have to be honest with you… if you get the Alpha Flight Omnibus somewhere at a reasonable price, you should get that book.
We're talking about the two times that Byrne wrote this series, by the way, as they are both worth your time and Marvel has recently released a sweet omnibus covering the entire thing.
She-Hulk is perhaps one of John Byrne's most creative and innovative series of his entire career. Not only he managed to add the breaking-the-fourth-wall element to the character, way before Deadpool made it a lot more popular, but he provided a level of humor and individual to the character of Jennifer, thus making her a lot more different to her cousin, Bruce Banner, at a time where She-Hulk could have been viewed as a bit of derivative character.
You cannot understand the character of She-Hulk without the input of John Byrne and if you want to enjoy the character at her absolute best, then you need to give his two runs of the character a proper look.
3. Man of Steel and his Superman run
Okay, this one is a bit of cheating, but bear with us, it's worth it.
John Byrne left Marvel Comics in the mid-80s because he had problems with the editor-in-chief at the time, Jim Shooter, and DC Comics, in the aftermath of the Crisis on Infinite Earths reboot, decided to offer him the possibility of relaunching one of the definitive characters in the medium, Superman.
Writing and penciling, Byrne did the Man of Steel miniseries where he updated the character for the modern era at the time, making Superman a bit weaker and giving a lot more emphasis on his human side, turning Clark Kent into the dominant personality instead of a façade. You could argue that modern adaptations and interpretations of the character are a direct result of what Byrne did on this reboot.
And it's simply fun. If you want to read classic Superman tales, free of cheap angst or trying to reinvent the wheel way too hard, this run by Byrne is exactly what the doctor ordered.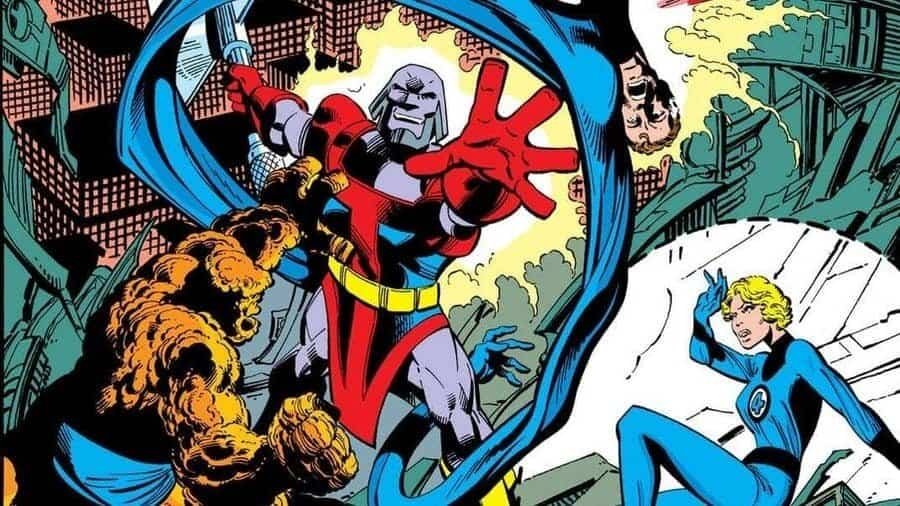 The Fantastic Four were Marvel Comics' best series in the 1960s when Jack Kirby was drawing and Stan Lee was writing. It might be harder to understand for the younger generations, but a lot of the now-classic elements and foundations of the Marvel Universe started with what Jack and Stan did in the Fantastic Four during those years, which cemented that superhero team as a fundamental part of their entire comic book world.
But by the early 1980s, the title was struggling and it had been a long time since a writer really took the title by storm, which is exactly what John Byrne when he took over. A longtime fan of what Jack and Stan did in the title, he decided to bring back the Fantastic Four to their absolute best and that meant, ironically enough, going back to their roots but with a few modern sensitivities for audiences at the time.
From my personal perspective, I think Byrne's time in the Fantastic Four, while obviously not as groundbreaking and influential as Jack and Stan's, is just as good as that iconic run. It's fresh, well-written, a lot of fun, great character development and with a lot of attention to continuity and what came before–Byrne made a point of reading every single Fantastic Four issue before he came along to fully understand everything that happened until that point.
Masterful, brilliant and one of those Marvel Comics you have to read. Definitely one of the best John Byrne comicsthat you may read!
This is one of the books where my suggestion is to break your savings and go straight for the omnibus. 
It's great material, and there's no better way to appreciate the art that these oversized books. 
Buy it now, you'll thank me later! Or you prefer to spend your money on some crappy, overpriced material published nowadays?
This is it. John Byrne's claim to fame as an artist and arguably the best period of his career in terms of storytelling as well because he co-wrote a lot of plots with writer Chris Claremont.
This is the run where the X-Men became Marvel's iconic superhero team and it's the Claremont-Byrne team the one that made that happen with issues that just get better and better and better the more you read. They are a masterpiece in storytelling and it gives you a proper understanding of what the X-Men are and should be at all times.
You don't need me to tell you this, actually. Go and watch any list about best comic books ever and you're going to find this run because it's simply too good. So do yourself a favor and get a copy of these issues because they are worth every single penny.
Peak Marvel Comics storytelling.
Hope you liked our list of the top John Byrne's comics that you might read. Go and read any of them, you'll enjoy them all!
And as we always say… keep reading good comics!