Image Comics is one of the imprints you may go in search for creativity. Where the major two, Marvel / DC, usually tangle on character's continuity and the "illusion of change" (where they make you think something is changinging but it's not in the end), Image gives us fresh stories where literally anything may happen. And this time, Image Comics Paper Girls is a clear reflection of this way of thinking: anything, literally, can happen!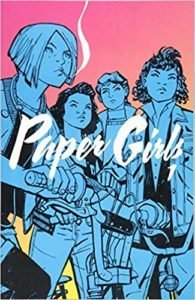 What's Paper Girls about?
The story starts in the mid eighties, with a group of newspaper delivery girls who do their delivery rounds on their bikes very early in the morning, in a small city. We get to see that the girls get some harrassement from some local boys, but nothing out of the ordinary. All that changes when the girls cross paths with some strange figures who steal some of their things.
The girls then decide to go looking for these guys to recover their stolen goods. And while doing this, they get sucked into a crazy, mind warping story of time travelers, abducting aliens, strange characters that speak in strange languages, monsters, weird tech…
If you saw Stranger Things on Netflix, you might find some contact between the stories. The story takes you around with your eyes wide open, while you watch the events that unravel and you cannot fully understand, but gets you completely hooked. And of course, as the story progresses, you get to know the characters better, their backgrounds and in some cases, their futures, which for this strange story are also part of their background…
There are multiple layers in this story, both in terms of the different timelines are getting into play, but also regarding what's happening, which are the good guys, the people to trust, the antagonists. They change from moment to moment and you really cannot be sure of anything that will happen next. That is probably one of the strongest points in the story.
Good reasons to try Paper Girls
The series, written by Brian K. Vaughan, won the 2016 Eisner Award for Best New Series and was nominated as best series in 2017. Cliff Chiang won the Best Artist Eisner Award in 2016 also for this series.
And if I didn't give you enough reasons to buy these books yet, I'll give you two another good reasons to read it just now:
You will find the paperbacks for this series real cheap on Amazon, some of them even below 10 bucks. That's a real good deal to read a very interesting story!
The series ends with issue #30, published this month. So it's a good chance to read a full story, packed in just 30 issues. That is good, because in my opinion, that's the problem on many books: they have a good story, but they push it to the infinite trying to get the last drop of milk from the cow. When you see a story that their creators are brave enough to let it go to have a good closing, that's a good sign.
Paper Girls books collections
As I mentioned above, the story is told in just 30 issues. But you can find it in 6 trade paperbacks that you find really cheap on Amazon. The story is also collected in bigger hardcovers (10 issues each) that may also be a good choice. The third and final one has not been published yet, but as the last issue was published this july, will probably come out soon.
As Amazon Affiliattes,  we will get a small commission if you click on some of these books and purchase them on Amazon. It will make no extra cost for you, and it will help us finance this beautiful page you're reading. So if you want to read a very solid story, with great art, that will take you through uncharted lands, don't hesitate to give Paper Girls a try. Click in the links below and purchase these books, you won't be disappointed!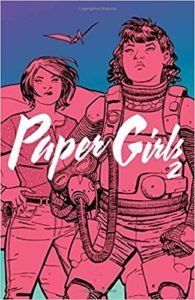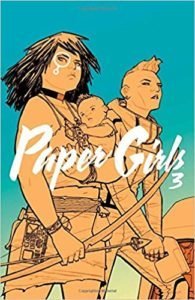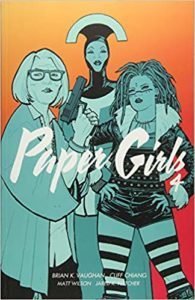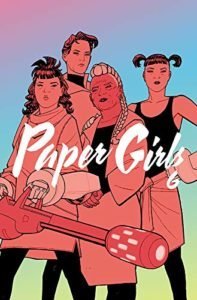 And as we always say… Keep up the good comics reading!
P.D.: and if you want to know more about the "illusion of change" I mentioned before, check out the book from our recomendation on Marvel's history here.