Mark Millar's The Magic Order is another home run on Millar's prolific career.
Millar is one of the authors that has been producing many of the most remarkable series in the last 15 -20 years. Stories that made it to the big screen like Kick Ass, Wanted and Kingsman: The Secret Service are between his most recognized material to the massive public, but to us comics lovers he's also produced many more both while working for big editorials like Marvel, and also working on his own Millarworld imprint. The Magic Order is no exception, it is a very enjoyable material.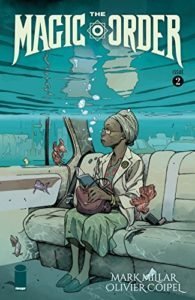 What's the Magic Order about?
The Magic Order tells the story about a group of magicians that have been secretly protecting the world for centuries. In present day, they are between us, working regular jobs or as stage magicians, even as the magician at a kid's party. But their powers are very real, and they fight real monsters on a semi regular basis.
The opening scene shows a crime. The first magician is murdered by entering into the mind of a small kid and making him stab the magician through the head. That's a hard and creative way to kill a guy. Later on, we find out that there's one group of magicians, lead by a Madame Albany, that's facing another facet to take control of the order,  and specially to get a very special book that may resurrect the dead.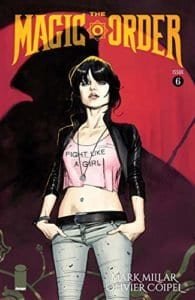 The main characters are represented in the Moonstone family. The father, Leonard, who leads the order and his disfunctional children: Reagan, who's is a great magician but not so interested in continuing his father's business; Cordelia, an alcoholic, unreliable escapist artist, and Gabriel, who his hinted to be the most powerful of them but has abandoned magic due to his own personal reasons.
The magic in the story
Maybe the real magic in the story is in the details of the universe Millar builds around his characters. The magic elements abound, kind of what we could find in a Harry Potter's story, but maybe heightened. The Moonstone castle, as an example, rests in an old painting in the Art Institute of Chicago. Through it they must pass, previous formal invitation, to gather with the order members to discuss magical matters.
The background of the more explored characters, Cordelia and Gabriel, present fun and emotive moments that develop through the issues and make you care about what happens to them. The story builds through continuous murders of magicians, all of them visually spectacular and bloody. Maybe I should remind you that this series is not for kids? Maybe looking at the cover of issue 3 will give you a couple hints…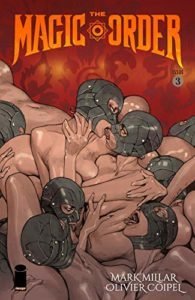 The other magic in The Magic Order series
Olivier Coipel makes the other magic part of the story. His visuals let you see every detail of what's being told. Expressions, murders and action scenes, all is beautifully drawn in this book, making a great combination between beautifully crafted story and beautiful art.
The only complaint I might make is that maybe the last act is a bit rushed. But all in all, The Magic Order is a book you'll enjoy and will let you wishing for more stories from them.
Mark Millar and Netflix
It's no news that Millar has closed a deal with Netflix, by which many of his works will be seeing screen through Netflix. Considering that Netflix won't be making any more Marvel material, it's good news for all us comics lovers, since Millar has produced many, many interesting series that would be nice to see in other formats. Also, as Millar himself explains in the editorial of the first issue, his deal when selling Millarwold to Netflix included that he would keep on producing new series in comic format, working with top notch artists in the process. So we might keep on expecting quality material for the coming future. For me, being a Millar fan, that's great news!
Just for you to know, the series with the same name that is currently in Netflix is NOT the same story from the comic, has nothing to do with Millarworld. It's a little bit confusing considering it came out a little bit after their deal, but… it's as it is.
Final words
As I always tell you, as an Amazon Affiliate I will be making a small commission if you get the trade paperback through one of the links in this page. It will be at no extra cost for you, and you will help us continue making this kind of reviews, so if this helps you to make contact with good material you wouldn't have otherwise, be my guest and click on the image below or any of the links on the page to purchase the book.
See you soon with another fast review, and keep up the good reading!!