I won't be discovering anything new by telling you that Frank Miller is the author of some of the best comics ever produced, and was partially responsible for the rebirth of the American comics industry during the 80's (along with Alan Moore and Neil Gaiman).
His stories on Daredevil defined the character forever, turning it from a second-tier hero into one of the most popular Marvel's characters. He's completely responsible for my love to this character, and you can see in our Best Daredevil comics stories review that many of his best stories are written by Miller. Later on, he moved to create two of the most influential Batman stories ever, as Dark Knight Returns and Batman: Year One. That information alone should prove my point right away.
Anyway, those are not the only good stories that Miller wrote or gave art to. Let's take a look at some of Frank Miller's best comics along this article, where you´ll find some material that, if you haven't read yet, you MUST include NOW in your "to-read" list.
Miller's begginings
Born in Maryland on January 27th, 1957, Frank Miller was a comics fan since his early years. He received recommendations from Neil Adams himself, and in early 1979 Jim Shooter took Miller to work at Marvel. His early works were filling in some Peter Parker: Spider-Man issues which had Daredevil as guest star. Since Gene Colan had just left Daredevil´s own title, which wasn't doing well in sales at the time, Miller saw an opportunity and lobbied with Jo Duffy to get in the title.
His start was in issue 158, written by Roger McKenzie, and Miller's expressionist artwork, influenced by film noir and manga, was an instant hit between readers. However, sales didn't improve and the title, which was published bimonthly at the time, was close to be cancelled.
Denny O'Neil, the editor of Daredevil, made a master move. He took out McKenzie of the title and let Miller take control of the title's scripts on issue #168. And so the magic began…
Because his art is REEEAALLY good, but Miller's magic began when he imagined the most intense histories for all the characters he took, and thus Frank Miller produced some of the best comics available in the american industry.
Want to review them with me? Let's go.
On issue #168, Miller introduced a female mercenary, sai wielding ninja, who was Matt Murdock's first and lost love from his college days. She had disappeared from Matt's life after his father, a Greek diplomat was assassinated, and then was trained and brainwashed by a ninja cult called the Hand. By the way, her name was going to be Indigo, but then he decided to change it to Elektra, to play with the mythical side of the story.
Just three issues after the start of this story, the title regains it's monthly status. Daredevil's story is filled with martial arts background with the introduction of Stick, Matt's sensei after the accident that blinded him. The story is a rollercoster of emotions, with a growing dark mood in them.
Wanna see a person stabbed in the back with a sai while watching a movie? Check. Wanna see a hero perform heroics with a cast on his leg? Check. Wanna see the hero drop his enemy to a certain dead, after his enemy kills the love of his life? Check. Or the hero play Russian roulette with his enemy while he's in his hospital bed? You´ll love this series…
The first run of Miller on Daredevil extends to issue #191, in February 1983, and has been collected in three volumes: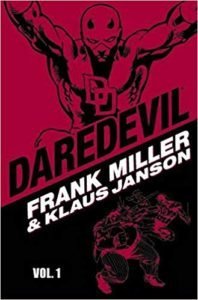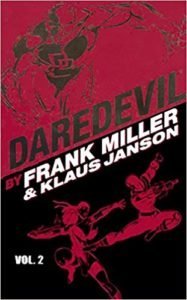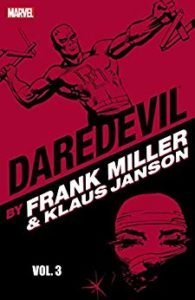 Note: as an Amazon Affiliate, I will have a small commission whenever you go through the links and purchase one of these books. So if you click in the images or the links and purchase these books, you will not only be going to read some of the best material you can read, but also help me finance this page. Thanks for the attention, and let's continue
Miller also produces two Amazing Spider-Man annuals (#14 & 15) while his first stay at Marvel, featuring Dr. Strange and Punisher, and he also generates another classic:
This miniseries also reinforces Wolverine's ties with the ninja's world when he travels to Japan, and fights  the Hand. Some of the visuals from the second Wolverine movie were clearly inspired by this series.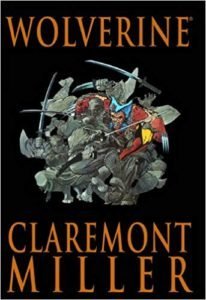 Co-written with Chris Claremont, this miniseries relates closely with the X-Men: From the Ashes storyline, so if you like this trade, go check the other one to see more adventures of Wolvie in Japan.
Miller goes DC
In 1980, while still working for Marvel, Miller drew a short Batman story written by his previous mentor, Denny O'Neil. But during 1983 / 1984, Miller moves from Marvel to DC Comics to produce his first creator owned project:
The story of Ronin continues focalized in the fascination of Miller by the Japanese Manga and their culture. The story connects feudal japan with a dystopic future New York city where a ronin (a samurai without master) is reincarnated. It's a great sci-fi story, with some incredible plot twists that will leave you thinking a while.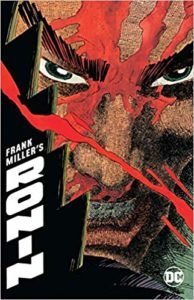 Following this hit, Miller produces another masterpiece:
This 4 issue miniseries is, without a doubt, one of the best comics ever written by Frank Miller and one of the two or three bigger classics of comics history: a retired Batman in his fifties return to fight crime in a future Gothman ruled by mutants and violent crime. Yes, violence is much present here… if you don't believe me, look at how Batman deals with the Joker! Nothing you saw before that date!
Miller wrote and draw the story, that was inked by Klaus Janson and collored by Lynn Varley. The particular storytelling of the book, where TV screens dominate and tell us what's going on in the world, reflect the culture of the mid 80's. This series, together with Watchmen, by Alan Moore, generated a new way to look at comics: adult oriented stories and darker characters.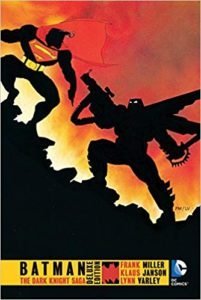 You probably have read this story. If you haven't, what are you waiting to read one of the Frank Miller's best comics?? Many books you might be reading now take some kind of element from this one. Go and read the original!
Miller was without any doubts at the peak of his career at this moment. Right after producing the Dark Knight, he goes back to Marvel to write another incredibly good story:
The story runs from issues 227 to 233. Together with artist David Mazzucchelli, Miller creates a story that chronicles the destruction and the rebirth of the character. What happens when the hero's worst enemy discovers his secret identity? That's what Daredevil finds out here, the hard way.
Through this story, Miller grows Daredevil's background, introducing Sister Mary, a nun who happens to be his long lost mother. If you haven't read this story, what are you waiting for? This is one of Daredevil's pivotal stories, as well as one of the best comics ever written, a story where the hero goes right to the bottom of the ocean and fights his way back.
Believe me, this is another one of  the best comics written by Frank Miller! And it's cheap to buy!
Later on, together with artist Bill Sienkiewicz Miller writes another two great Daredevil stories:
Which is more a story about the Kingpin and his relationship with his wife, Vanessa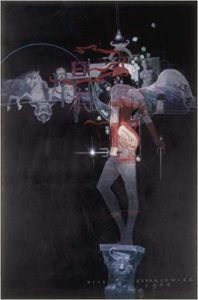 A surrealistic, violent, and somewhat sci-fy story set after Elektra's resurrection by the Hand. It´s a complex story both in terms of script and art, so it's not for recently initiated readers. The art in both books is really good, but Sienkiewicz also in not for everybody…
If I wanted to buy this material now, I'd probably go for the nice hardcover below that collects both stories: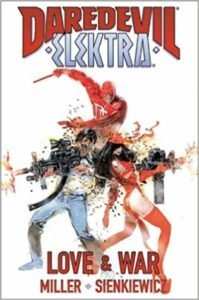 After these two books at Marvel, Miller moves back to DC and produces another one of the highest points in his career: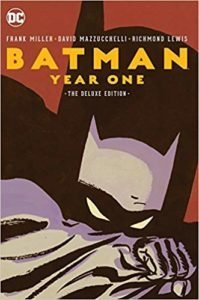 Originally published in Batman #404-407 and again in collaboration with David Mazzuchelli, Miller writes another instant classic (in my opinion, even better than The Dark Knight Returns).
This story retells Batman origins, how he started his career, his first appearances, his relationship with James Gordon, and builds the ground for many post-crisis Batman stories, as well as inspires many elements for future Batman movies. Only here is better. This is great, great material. Don't tell me I didn't tell you!
I put the link for the hardcover version here because a. this is the original cover for this book, and b. this book deserves it! It's another one of the greatest hits of Frank Miller 's comics career!
Miller works again for Marvel's Epic line with
A fully painted graphic novel that tells the story of Elektra's resurrection and Matt Murdock's quest to meet her again.
Miller writes and draws this story, with colors by Lynn Varley, and this oversized book is more experimental on Miller side, showing a visual storytelling that is closer to his future work in Dark Horse than his past works in Marvel.
You can also find this material together with Elektra Assassin and a couple extra features in the Elektra by Frank Miller Omnibus, might also be a nice book to buy.
The Dark Horse years
Miller moves then to Dark Horse, complaining about DC's rating systems that would mean some kind of censorship to his books and trying to have more creative freedom, but mainly trying to keep higher participation of his creator rights. His first material there is
A three issues miniseries violent satire about a cybernetic assasin, winner of the Eisner award in 1991. Some elements of Miller are always present here: a dystopic society, the violence… But the main dish here is not Miller the writer, but the art by Geof Darrow. Frankly spectacular. Seriously, if you haven't read this, check the level of detail of Darrow's pencils in this book.
Almost at the same time, comes out
Together with Watchmen's Dave Gibbons, Miller produces this four-issue sci-fi miniseries about Martha Washington.
Again a near future in permanent war, Miller makes in this book a hard critic against corporations and American politics: the republican figure comes as a brutal assassin, and shows the democrat figure as a character with good intentions but no strength nor capacity to do things.
It's a deep complex, adult work that has many sequels, but none of them as good as the original one.
Sin City
In this series, Millar changes radically his backgrounds. He moves from the difunctional futures of Hard Boiled & Martha Washington to take us to Basin City, also known as Sin City due to corruption levels. In this story, well within the noir police genre, Miller creates a new universe of gansters, ninja prostitutes, corrupt politicians, loosers and killers for hire that he would later explore in many series.
The series was (almost) entirely in black and white, and Miller explores here his mastery for shadows and lights. Miller revitalized the genre again with this title, and one could reasonably argue that titles as 100 Bullets from Azzarello / Risso or the many Criminal series by Greg Rucka and Sean Phillips, all of them excellent on their own, may not have seen print if the market wasn't previously prepared by this Miller title.
Sin City is another one of Frank Miller's best stories in comic books, building a universe that appeals both to comic lovers and to people that hasn't read a comic before in his life, and as you probable know it has been taken to the big screen in 2005 by Robert Rodriguez. The movie includes elements from The Hard Goodbye, The Big Fat Kill and That Yellow Bastard storylines.
The saga of Sin City has many books, some of them are better than others. The first one, The Hard Goodbye, is a can't miss book about a hard guy accused of a crime he didn't commit. Miller has declared that in Sin City's chronology this would really be the last story. I don't know if it's the first or the last, but it's surely the best.
The second Sin City book was A Dame to Kill For. Originally published as a 6-issues miniseries, it tells the story of the relationship about Dwight, a former journalists that works as private eye taking pictures of ladies while committing adultery, and Ava, a beautiful but manipulative woman.
The books keeps adding more characters to the Sin City mini-universe, including Miho, a small but deadly ninja killer prostitute, and more characters that will appear later on in the stories.
Some say this is the worst installment of the saga.
Here we find Dwight again, with all the prostitutes from the Old Neighborhood. Some people say that this story is a test run for the future 300 storyline, but with fire guns.
The fourth installment is also one of the best of the series. It focuses on detective Hartigan, a 60 year man one hour away from retirement, that risks it all to save an 11 year old girl kidnapped by the homicidal Roark junior, son of Senator Roark.
From there on, the senator set to make his life impossible. As a detail, Roark Junior is the only character depicted in color, a rotten yellow that points even more to the internal corruption of the character.
The fifth Sin City story was originally published in Graphic Novel format, and marks the comeback of Dwight and Miho in a story that is told from multiple points of view in order to find out what really happened.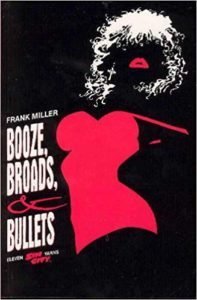 This book is really a collection of short stories previously published as one shots or elsewhere.
Includes the Baby Wore Red, Silent Night, Sex & Violence; Lost, Lonely & Lethal; Tales to Offend and Just Another Night, originally published in Wizard Magazine.
The last published and longer Sin City story. Surely the most erotic and sexy installment of the saga, it tells the story of Wallace, an ex-marine that sets to rescue Esther.
It's supposed to be love story through the Sin City lens, and includes one fully painted by Lynn Varley chapter.
Also for Dark Horse, Miller produces another books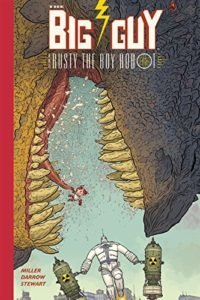 A 1995 two part miniseries in collaboration with Geof Darrow again. This title became an animated series in 1999. The story reminds Japanese monster attack classics, centering about a giant reptile attacking Tokyo. Rusty the Boy Robot , a homage to Astroboy, the Japanese assigned hero, must join forces with American robot Big Guy to stop this threat.
This 1998 miniseries retells the classic Battle of Thermopylae from the perspective of Leonidas of Sparta, the Miller's way. Plenty of violence, sick characters and lots of action.
This book is also an expression of why Frank Miller is one of the best and most complete artists in comics. Miller chose a special format to draw it, with every page twice as wide the size of a normal comic. That alone increases the visuals of the book, that won three Eisner awards in 1999. Real good material to have in your library! (What a good present for Father's Day!)
As everybody should know, Zack Snyder adapted this story into the big screen in 2007, with big success.
Recently Miller has produced another book regarding this universe, a 5 issue miniseries that acts as a prequel and sequel to this story, that´s also the return of Miller to the writer & artist status.
I have to be completely true to you: this story had passed under my radar, and found out about it while doing the research for this article! I'll try to read it as soon as possible to make a fast review for you!
Back with the Big Two
Millar works again for Marvel and DC during the 90's, starting with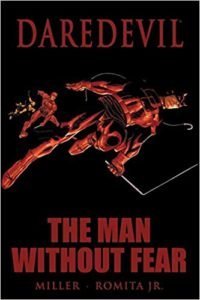 Miller comes back to the character that jumpstarted him to fame. This story, drawn by John Romita Jr., is kind of a Daredevil: Year One. Set in Daredevil origins, it retells the story of how Matt Murdock came to be the hero he is, amplifying details about his relationships with Elektra, Foggy and other characters.
If you read this, remember: the scene of the bullet close to the ending. Great! 'Nuff said!
Coming into the 2000's, Miller also sets aside his differences with DC comics and creates new material.
WARNING: As we always try to recommend the material we like, we have to make the comment that the material he made for DC during the last years is far from being his best material. You may try it if you really love Miller, but… if you want to really love his work, better spend your money in the titles above.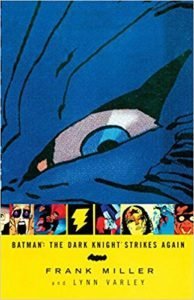 A three-part prestige format miniseries published in 2001 / 2002. Even being an expensive book it sold like water, but to my consideration, is far from being close to the first installment, and far from being one of Frank Miller 's best material in comics.
Anyway, it increases the number of heroes appearing in this universe by including Wonder Woman, The Flash, The Atom and some other heroes (apart from the previously appeared Superman).
You might want to try iy if you want to expand your views in this akternative universe.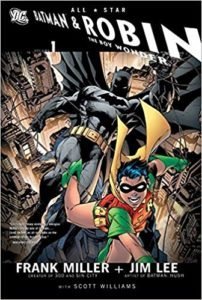 The series was published in 2005 and drawn by Jim Lee, still red hot from his Batman and Superman runs.
Delays in publications, lots of pin-ups in a story that doesn't make much sense. If you read this Frank, sorry, it's my opinion… to me, it left me a bad taste in my mouth, feeling it was made only for the money.
But if you want to try it anyway, be my guest…
Co-written with Brian Azzarello and drawn by Andy Kubert and Klaus Jason. Again, it sold like crazy in 2015, but the earth will keep turning even if you miss this story. Amazon shows 4 and a half stars, must be fanboys.
If you have to spend your bucks wisely and didn't read his previous material, go there please… but this book prepares the ground for potential more future stories in this universe, so you might want to read it.
I usually recomend hardcovers for the books I really enjoy, but in this case, both the hardcover and the paperback have exactly the same price by the time I write this post, so if you go for it, go for the hardcover. Again, it's not baaaad material… it's just not one of the best comics by Frank Miller.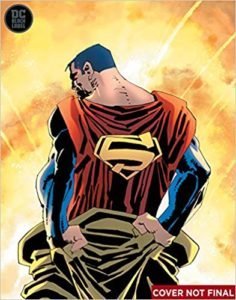 Miller's new material is coming out of print as I write these lines. The team of Miller and Romita Junior reunite again to produce this DC Black Label miniseries, that will see the light on June 19th. The team know each other since they worked together in Daredevil: The Man without Fear. Will they make material up to that level, or similar to the last material done for DC? Only time will tell. I always put some bucks on Miller, so I'll be waiting to read it and review it for you.
Hope you enjoyed this article about one of my favorite artists in this media. If I criticized him on his latest DC material is because I really love his previous work, I'm used to read comics from Frank Miller among the best available, way above average. Since I believe Frank Miller is one of the best comics writers of all time, I'm always expecting a plus from him.
And as always, I will be expecting a lot from his soon to come Superman: Year One.
Give us many more good comics to read, Frank! You're one of the great ones, we comic lovers love you!
As we always say, keep up the good reading!