Without a doubt, Nightwing's run by Tom Taylor and Bruno Redondo is one of the best comic titles published in 2021, and Nightwing himself will be fighting to be one of the best characters of the year. Tom Taylor is doing a magnificent job portraying Nightwing as the human being he grew up to be, and the artwork from Bruno Redondo makes a wonderful complement to build a great title that's fun to read and enjoyable to see.
Taylor's run begins in issue 78, and up to now, it has all the elements to make a classic run that will be remembered for years to come. Mixing classical characters from the Batman's family mythologhy, well known characters from the title and new instant fan favorites, the story is well balanced and will be well received by long time readers as by newcomers to the title.
Different from the mothership title, Batman, that has turned hard to read, to enjoy and to believe (I've tried 3 times to read current issues and ended up putting them aside…), Nightwing makes for a lean reading, and represents a ray of light where other titles bring only darkness, and nothing else.
I will try not to ruin the story for you if you keep reading from now on, but…there might be some spoilers here and there from now on, so if you keep reading… you've been warned! If you want to read the story first this would be a great choice.
Nightwing: Leaping into the Light - The story
The story is placed right after events in the latest Bane saga from Batman, where Alfred, Bruce Wayne's butler, dies. It begins showing us events from Dick Grayson's past, and his relationship with Barbara Gordon and Alfred, and then comes back to the present moment, where we get the first surprise in the story: Alfred had an incredible ammount of money, he was in fact a billonaire. And in his last will, he passed all that money to Dick.
What will Dick Grayson do with all that money? How will he use it? This is probably the key element of this story, that will follow to the resolution. Because it will show us how similar Dick Grayson is to his father figure, Bruce Wayne, but also how different he is. And also how, by being different, Dick honors all the fathers he had along his life: John Grayson, Bruce Wayne, and Alfred Pennyworth.
The story is full of emotions, and the last issue of this volume, issue 83 ( a soon to be classic jewel), really made some tears come from my eyes. This is what a great comic does to you: is fun to read, is nice to see, it makes you think, and it makes you feel. Thanks, Tom Taylor
Old Favorites, New Characters and... a twist from the past?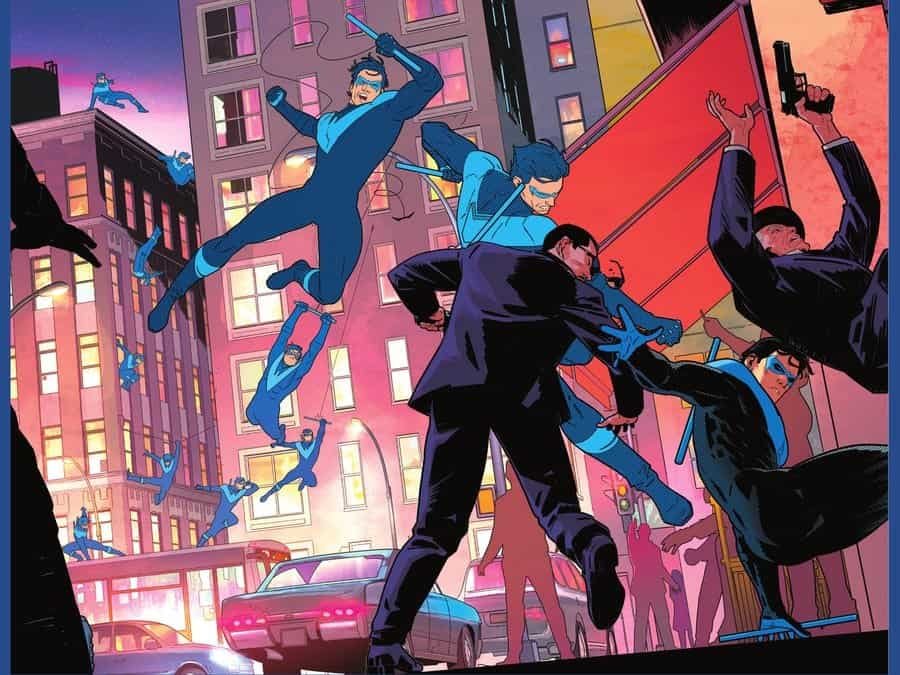 The story includes many fan favorite characters, such as Barbara Gordon, who acts here as Nightwing's helper from the shadows, as Alfred used to be to Batman. Babs is a great supporting character in this story, and it's also great to see how her relationship with Dick Grayson grows through the run.
Tim Drake also plays an important supporting character on the run, and he's established as Dick's brother, a love/respect relationship. Other characters of the Bat family are mentioned in the book. While their appearence is almost referential, it's incredible how well you can show the different character's personalities with just one or two lines.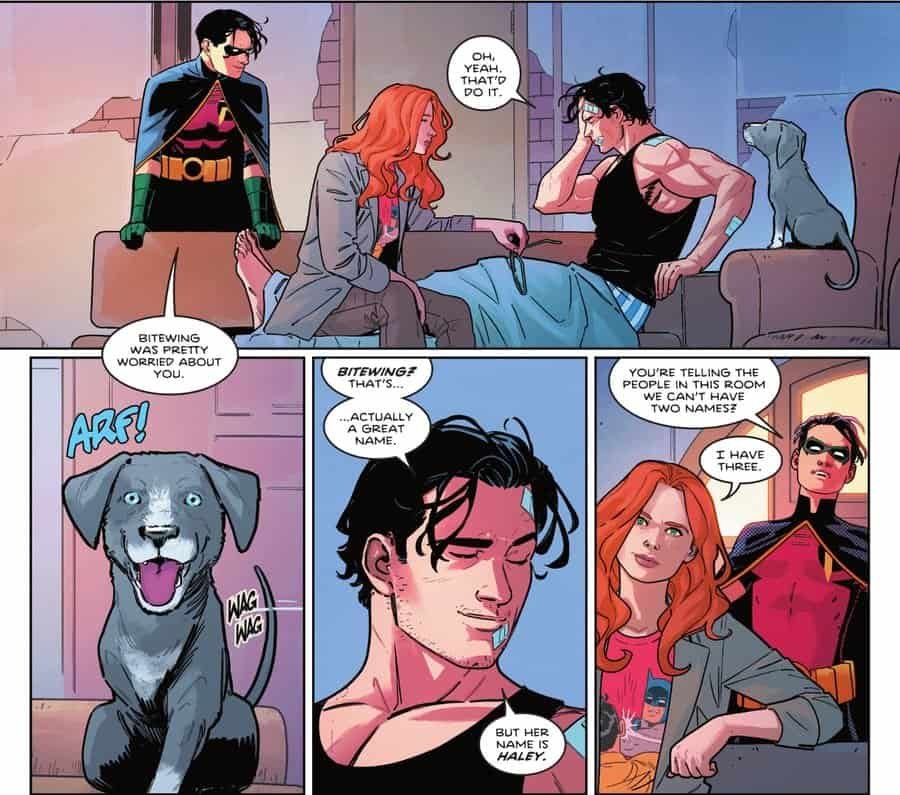 Another fan favorite that appears in the story is Blockbuster, Nightwing's best known villain, who plays a crucial role in the story, a figure to be feared and respected.
Along the book we're also introduced to new characters: the villain Heartless, a villain that will probably play a key role in issues to come, and Bitewing, Dick's new pet, a puppy he rescued from some bullies in the first issue of this run.
Other character that will play a key role (and a major plot twist) is Melanie Zucco, the daughter of Anthony Zucco, the man who killed Dick Grayson's parents. Melanie will play an importnat role in this story, in a way you don't expect at all. Won't say anything else about this, you have to read it!
The art & the reminiscence to Daredevil
A separate chapter is the art by Bruno Redondo. His art is clean and cinematic, and works perfectly in this story. Redondo's art makes you think of Frank Miller's art in classic Daredevil's issues, and I believe it's no surprise.
I must say that at this moment, Nightwing is DC's Daredevil. Because of how the character acts, because he's fearless (if you don't believe it, watch the magnificent helicopter's secuence form issue 83), and because Dick Grayson is the most human, relatable hero from DC Comics.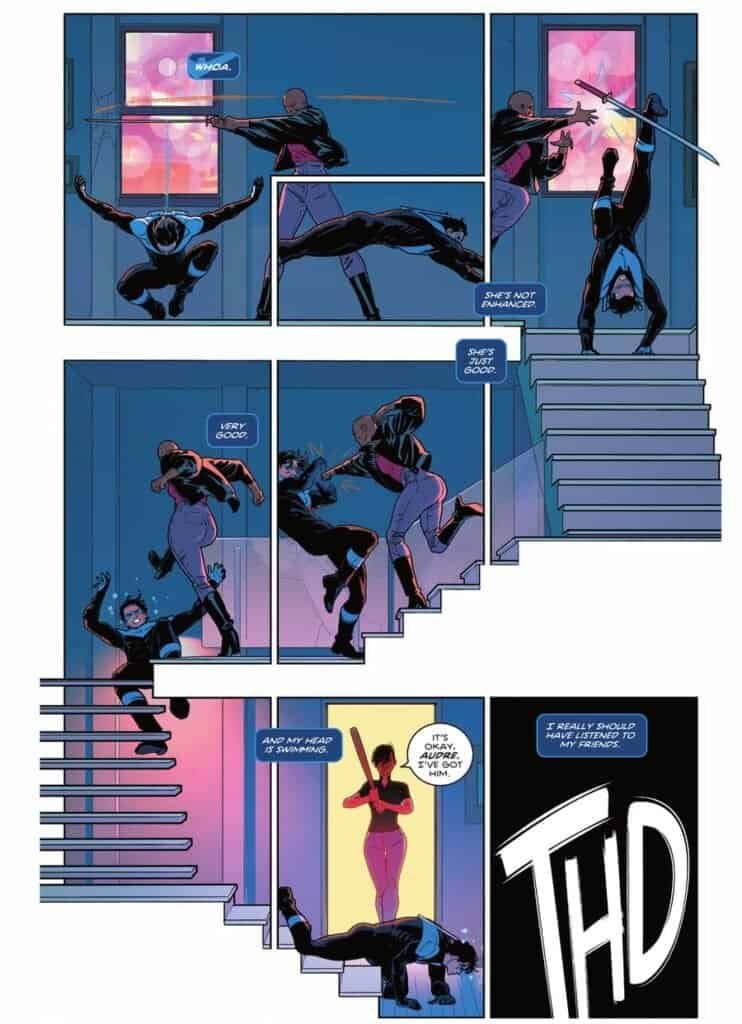 This is great storytelling, great character building and great art, all in a lovely package. Taylor's run on Nightwing will make you think about if everything you read about crime fighting in comics is wrong.
Belive me, if you have to read a single mainstream comics nowadays, this is the one!
Again, you may get it all in one single hardcover volume, from December '21.
Without a doubt, Nightwing by Tom Taylor and Bruno Redondo is one of the best comics published in 2021. Don't miss it, it's a great opportunity to tell everybody why you love this beautiful media!
Great job, Tom and Bruno, keep giving us these good material!
And for you, guys, as we always say… keep reading good comics!